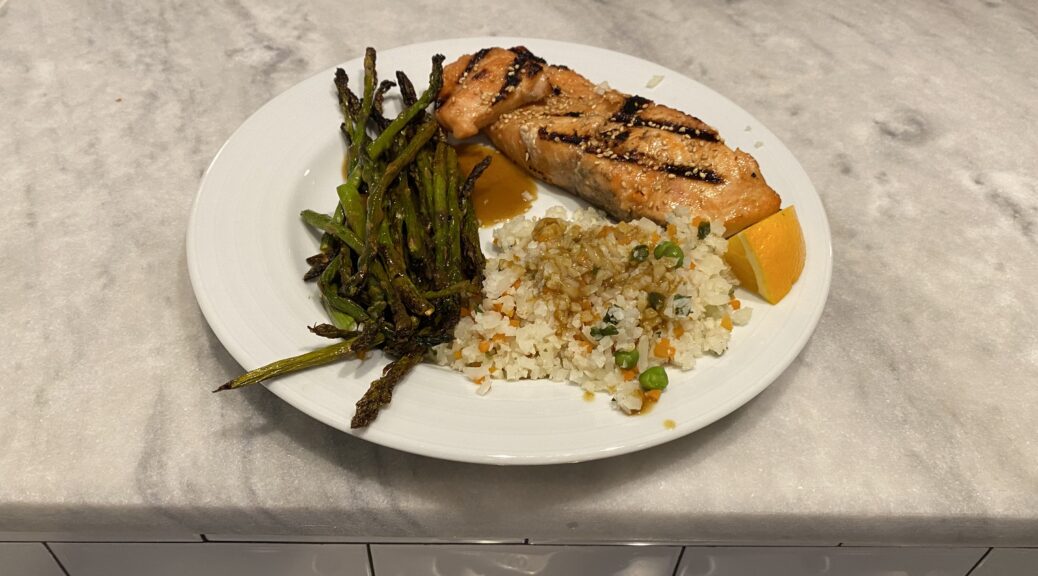 Recipe Remake – Epcot World Showcase Edition 7/11 – Takumi-Tei Tataki (Salmon)
Recipe Remake – Epcot World Showcase Edition 7/11 – Takumi-Tei Tataki (Salmon)
Some (many?) weeks when you're putting together the grocery list you struggle for inspiration. My family could probably tell you the precise number of weeks in the past few years we've defaulted to the ground beef tacos-pasta-burgers line-up. That's not a bad thing – I make great ground beef tacos and pasta and burgers, each of which I can quickly adapt for myself to keep it keto, so to speak. But when the groans from my family became audible on announcing the week's menu, I knew it was time to think outside of my very tiny box for ideas.
According to the Disney website, WDW has 385 restaurants. Some of those are bars with limited or no food, some are "experiences" rather than restaurants, and some are (mostly) useless (see, e.g., Beaches & Cream Soda Shop – short of some miracle of science, the Kitchen Sink will never be keto-friendly).
That leaves us with hundreds of restaurants with thousands of menu items. But where to start…
How about a trip around the world? No, not for drinking around the world, although I have done that – for eating around the world! We're going to try to go 11 for 11. And like any sane person, when we leave The American Adventure, we head to Japan.
Ingredients:
4 8oz salmon fillets
1 Bunch asparagus
1 cup miso paste
½ cup mirin
½ cup sake
½ cup soy sauce
1 tbsp Splenda
½ package Japanese curry mix
1 tbsp canola oil
3 ½ cups water
Juice of ½ medium orange
1 tbsp lemon juice
Roasted sesame seeds
1 package Green Giant Riced Veggies – Cauliflower Medley
Instructions:
I'm going to go lean on the instructions since the point here is to find sources of inspiration for your meals, not layout precise instructions for cooking.
Combine the miso paste, mirin, sake, soy sauce, and Splenda in a bowl and stir until you get an even mixture. Place the salmon in a Ziploc bag and pour the miso marinade over it. Marinate in the refrigerator for 2 hours. Salmon is a firm fish, so it can handle 2 hours of marinating, but any longer can result in acids in the marinade cooking the fish, and ceviche is not what we're going for here!
My 3 keys to grilling salmon are: 1) Start with very hot (clean) grill grates – after I've scraped any residue off the grates, I crank the burners on my gas grill up to high. 2) Oil the fish, not the grill – I dab both sides of the salmon with plenty of canola oil. 3) Grill skin side down first for 5 minutes, flipping once and allowing the meat side to cook for another 5 minutes.
Throw the asparagus in a grill pan sprayed with Canola oil, and grill alongside the salmon for 10 minutes.
After 5 minutes per side, the salmon is at about 125 degrees Fahrenheit, which is when I like to pull it off and let it rest uncovered for about 5 minutes, during which time it will come up to at least 145 degrees Fahrenheit. If you don't cook salmon often, use a fish thermometer to check your temps.
Prepare the curry according to the package, which in my case involved heating the oil, stirring in the water and curry mix until melted, and simmering for five minutes.
Prepare the riced cauliflower according to the instructions.
Plate the salmon (skin on), asparagus, and riced cauliflower and top with curry sauce. Garnish the salmon with roasted sesame seeds and an orange quarter.
KTK Pro Tip: Find an international or Asian grocery store in your area (or next time you travel) and spend some time looking around. It's amazing the number of different sauces and other ingredients they have that can kickstart a meal, whether you're grilling or cooking in an Instant Pot or slow cooker. You never have to eat Hamburger Helper again!
Don't be surprised if a man in a kabuki mask attacks you with an army of miniature flying robots just to get his hands on this umami goodness. Keep Ketoing The Kingdom, Kids!