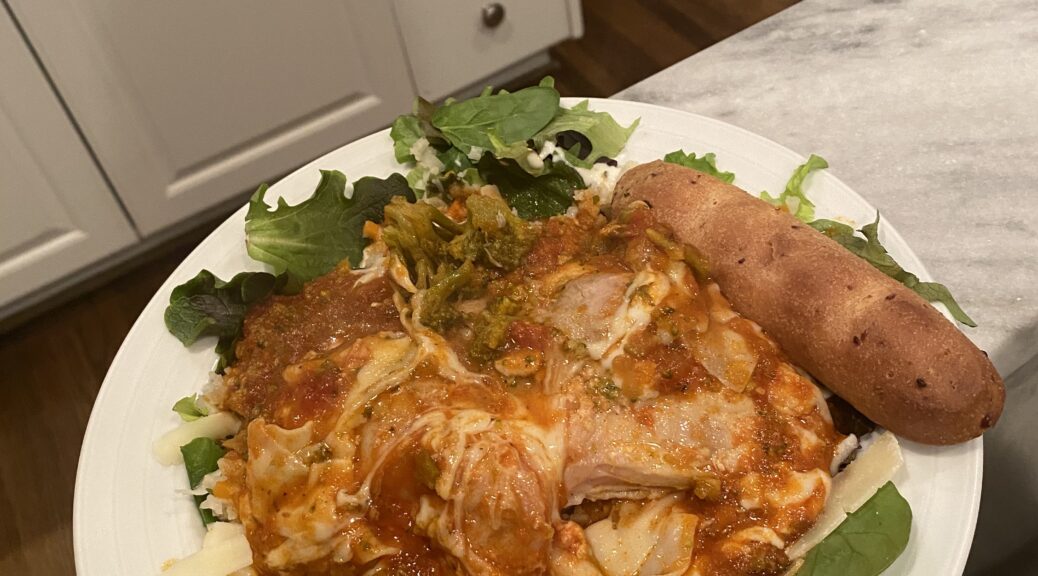 Recipe Remake – Epcot World Showcase Edition 5/11 – Tutto Italia Restorante Parmigiana (for the Instant Pot)
Recipe Remake – Epcot World Showcase Edition 5/11 – Tutto Italia Restorante Parmigiana (for the Instant Pot)
Some (many?) weeks when you're putting together the grocery list you struggle for inspiration. My family could probably tell you the precise number of weeks in the past few years we've defaulted to the ground beef tacos-pasta-burgers line-up. That's not a bad thing – I make great ground beef tacos and pasta and burgers, each of which I can quickly adapt for myself to keep it keto, so to speak. But when the groans from my family became audible on announcing the week's menu, I knew it was time to think outside of my very tiny box for ideas.
According to the Disney website, WDW has 385 restaurants. Some of those are bars with limited or no food, some are "experiences" rather than restaurants, and some are (mostly) useless (see, e.g., Beaches & Cream Soda Shop – short of some miracle of science, the Kitchen Sink will never be keto-friendly).
That leaves us with hundreds of restaurants with thousands of menu items. But where to start…
How about a trip around the world? No, not for drinking around the world, although I have done that – for eating around the world! We're going to try to go 11 for 11. And like any sane person, when we leave Germany, we head to Italy.
Ingredients:
2 lbs boneless, skinless chicken thighs
1 jar Rao's marinara sauce
Thick cut mozzarella cheese
Shaved parmesan cheese
1 package steamable broccoli florets
Dried chopped onion
Italian seasoning
Salt and pepper
Canola oil
Green Giant garlic cauliflower breadsticks
Instructions:
I'm going to go lean on the instructions since the point here is to find sources of inspiration for your meals, not layout precise instructions for cooking.
Spray the inside of the Instant Pot with the canola oil. Salt and pepper the chicken thighs. Set the Instant Pot to sauté and sear the chicken for about 2 minutes per side to brown them. Remove the chicken and set it aside. Add the marinara and scrape the bottom of the Instant Pot to deglaze it. Put the chicken on the Instant Pot trivet, return it to the Instant Pot, add some dried onion and Italian seasoning and pressure cook for 10 minutes, allowing the Instant Pot to depressurize. Steam the broccoli according and bake the cauliflower breadsticks according to the directions on the package. When the chicken is done, plate it on top of the broccoli with some sauce and a healthy sprinkle of mozzarella and parmesan. Microwave the plate for 20 seconds to melt the cheese. Add a breadstick, and you're good to go.
KTK Pro Tip: People starting keto often complain that they can't have pasta. I've never really missed it because everyone knows that pasta is just a vehicle for sauce. Find a substitute for the pasta like broccoli or riced cauliflower or zucchini noodles or shirataki noodles and you won't miss out. And Rao's sauces are much lower carb than all of the other brands because they don't add sugar. Along with the marinara, the arrabbiata (spicy!), and vodka sauces are popular in our house. And if you have a hankering for pizza while you're in the World, check out Blaze Pizza in Disney Springs – they have a keto crust that's pretty good.
Channel your inner Luca and dive into this one. Keep Ketoing The Kingdom, Kids!