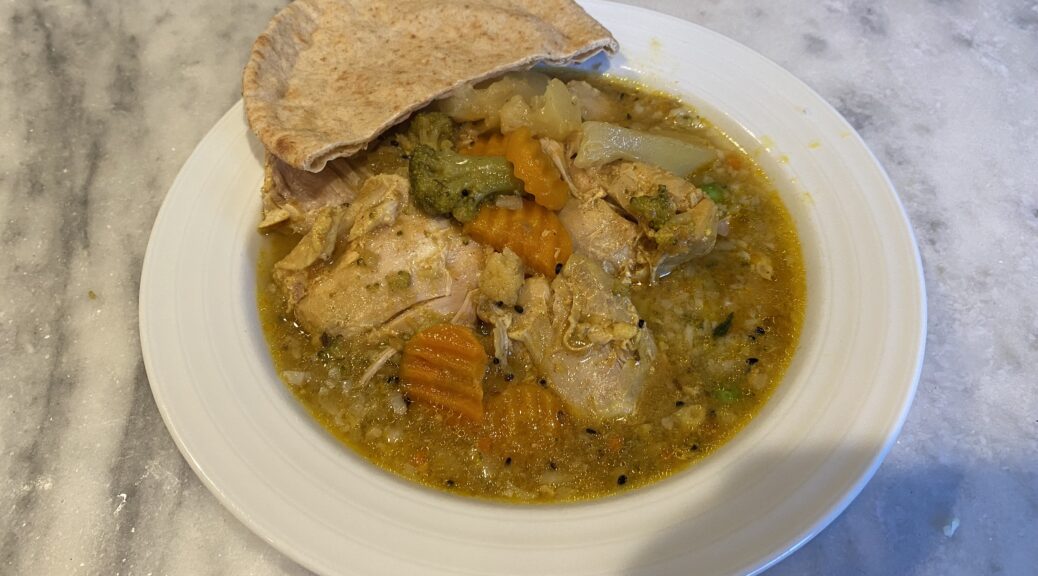 Recipe Remake – Epcot World Showcase Edition 8/11 – Restaurant Marrakesh Lemon Chicken Tangine (for the Instant Pot)
Recipe Remake – Epcot World Showcase Edition 8/11 – Restaurant Marrakesh Lemon Chicken Tangine (for the Instant Pot)
Some (many?) weeks when you're putting together the grocery list you struggle for inspiration. My family could probably tell you the precise number of weeks in the past few years we've defaulted to the ground beef tacos-pasta-burgers line-up. That's not a bad thing – I make great ground beef tacos and pasta and burgers, each of which I can quickly adapt for myself to keep it keto, so to speak. But when the groans from my family became audible on announcing the week's menu, I knew it was time to think outside of my very tiny box for ideas.
According to the Disney website, WDW has 385 restaurants. Some of those are bars with limited or no food, some are "experiences" rather than restaurants, and some are (mostly) useless (see, e.g., Beaches & Cream Soda Shop – short of some miracle of science, the Kitchen Sink will never be keto-friendly).
That leaves us with hundreds of restaurants with thousands of menu items. But where to start…
How about a trip around the world? No, not for drinking around the world, although I have done that – for eating around the world! We're going to try to go 11 for 11. And like any sane person, when we leave Japan, we head to Morocco.
Ingredients:
2 lbs boneless, skinless chicken thighs
2 packs lemon chicken simmer sauce
1 cup chicken stock
1 package steamable frozen vegetables
1 package Green Giant Riced Veggies – Cauliflower Medley
1 tbsp dried chopped onion
1 tbsp garlic powder
Salt and pepper
Canola oil
Joseph's Flax, Oat Bran & Whole Wheat Mini Pitas
Instructions:
I'm going to go lean on the instructions since the point here is to find sources of inspiration for your meals, not layout precise instructions for cooking.
Spray the inside of the Instant Pot with the canola oil. Salt and pepper the chicken thighs. Set the Instant Pot to sauté and sear the chicken for about 2 minutes per side to brown them. Remove the chicken and set it aside. Add the chicken stock and scrape the bottom of the Instant Pot to deglaze it. Add the simmer sauce, dried onion, garlic poweder, and frozen vegetables. Put the chicken on the Instant Pot trivet, return it to the Instant Pot, and pressure cook for 10 minutes, allowing the Instant Pot to depressurize. When the chicken is done, plate it with vegetables and sauce on top of the riced cauliflower. You could garnish with green olives, but my family isn't big on olives, so I skipped it. Add a mini pita, and dig in!
KTK Pro Tip: The "Passage to Morocco Spiced Lemon Chicken Simmer Sauce" was a bit of a lucky find. But not that lucky…I stumbled on it in the international aisle of my usual grocery store. If your local stores don't have anything similar, there are a number of recipes online for "Instant Pot Moroccan chicken." They just require a few more ingredients, including spices. But get creative – even a Chinese lemon chicken sauce would be a good start with some Moroccan spices like paprika, ginger, cumin, and turmeric.
Grab a selfie with your favorite local NSFW architectural design element before they turn it into a door. Keep Ketoing The Kingdom, Kids!