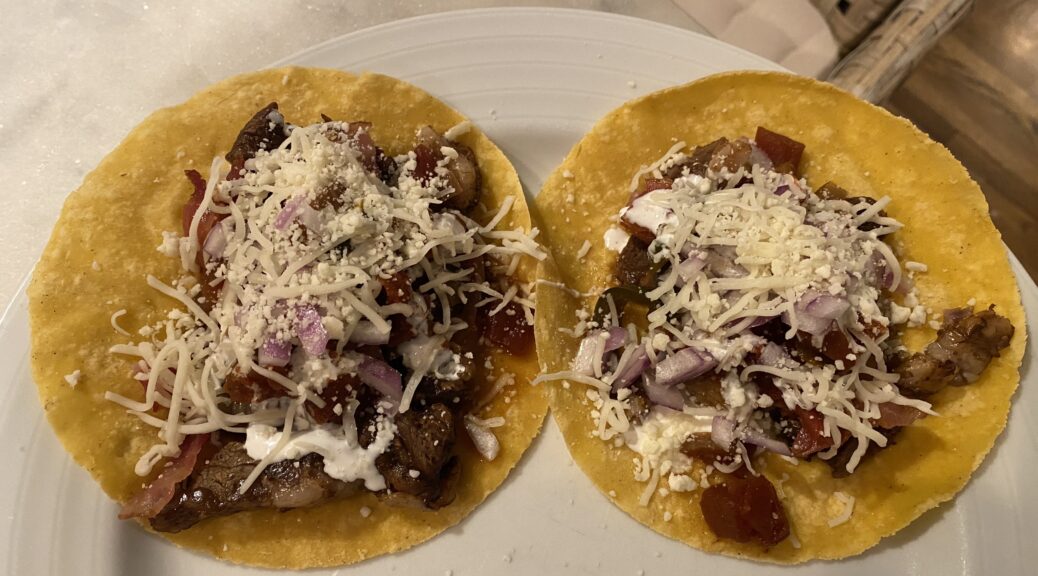 Recipe Remake – Epcot World Showcase Edition 1/11 – San Angel Inn Restaurante Tacos de Ribeye (for the Instant Pot)
Recipe Remake – Epcot World Showcase Edition 1/11 – San Angel Inn Restaurante Tacos de Ribeye (for the Instant Pot)
Some (many?) weeks when you're putting together the grocery list you struggle for inspiration. My family could probably tell you the precise number of weeks in the past few years we've defaulted to the ground beef tacos-pasta-burgers line-up. That's not a bad thing – I make great ground beef tacos and pasta and burgers, each of which I can quickly adapt for myself to keep it keto, so to speak. But when the groans from my family became audible on announcing the week's menu, I knew it was time to think outside of my very tiny box for ideas.
According to the Disney website, WDW has 385 restaurants. Some of those are bars with limited or no food, some are "experiences" rather than restaurants, and some are (mostly) useless (see, e.g., Beaches & Cream Soda Shop – short of some miracle of science, the Kitchen Sink will never be keto-friendly).
That leaves us with hundreds of restaurants with thousands of menu items. But where to start…
How about a trip around the world? No, not for drinking around the world, although I have done that – for eating around the world! We're going to try to go 11 for 11. And like any sane person, we're starting in Mexico.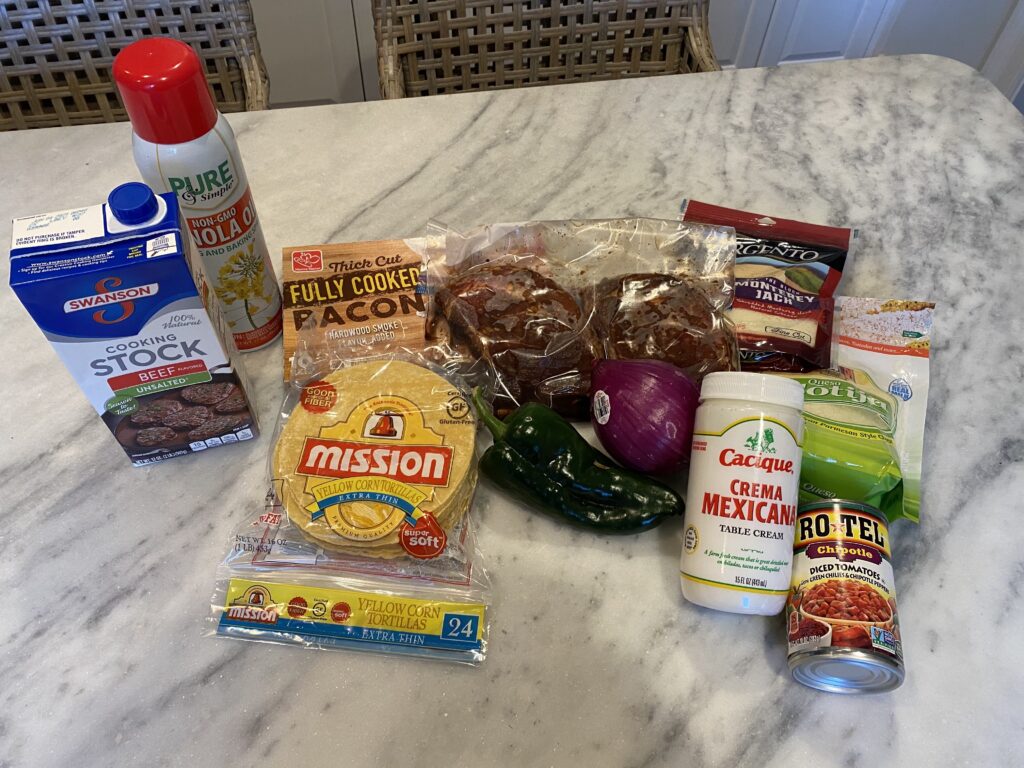 Ingredients:
2 lbs boneless ribeye (in your favorite marinade)
1 1/2 cups beef stock
1 can Mexican style diced tomatoes
1 poblano pepper, sliced lengthwise into strips
1 red onion, diced
Canola oil spray
6 slices of bacon (cooked and chopped)
Monterey Jack cheese
Extra thin yellow corn tortillas
Crema Mexicana
Cotija cheese
Instructions:
I'm going to go lean on the instructions since the point here is to find sources of inspiration for your meals, not layout precise instructions for cooking. Besides, the Instant Pot is pretty easy, and this dish can be made any number of ways (grill, slow cooker, etc.).
Spray the inside of the Instant Pot with the canola oil spray. Set the Instant Pot to sauté and sear each side of the steaks for 2 minutes. Remove the steaks and set them aside. Add the beef stock, diced tomatoes, and peppers and scrape the bottom of the Instant Pot to deglaze it to avoid burning. Put the steak on the Instant Pot trivet, return it to the Instant Pot, and pressure cook for 4 minutes. I would manually depressurize so that the steaks don't continue to cook. Let the steaks rest for 5 minutes, and then slice them thinly (against the grain). Place the steak and peppers and onion on corn tortillas and garnish with onion, bacon, cheeses, and crema.
The tortillas are 22g net carbs for THREE, so two at around 15g should fit your macro.
KTK Pro Tip: Guacamole and riced cauliflower are keto-friendly sides that work well with Mexican dishes.
Go easy on the tequila so you don't find yourself climbing the pyramid, and…Keep Ketoing The Kingdom, Kids!